April 24, 2019
Faith Greater Than Fear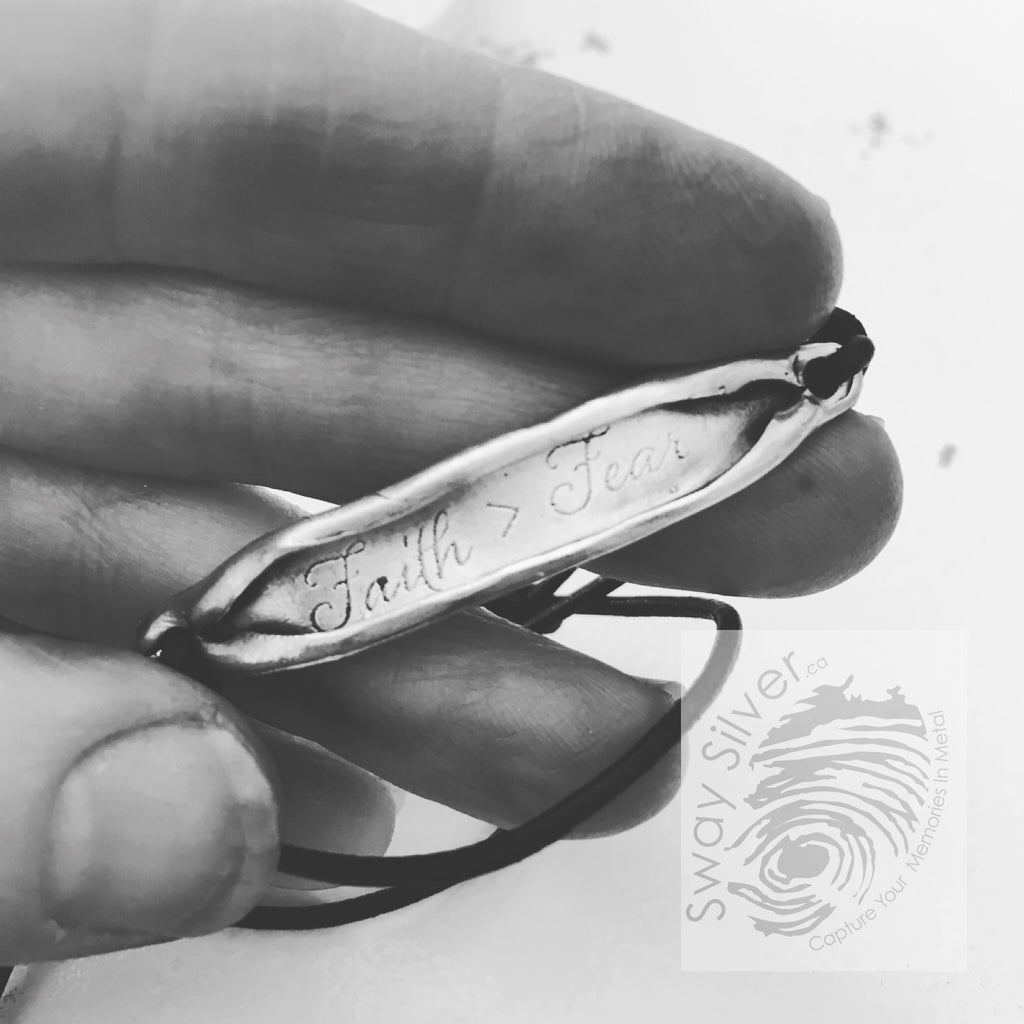 Fear... anxiety... I don't know exactly what you call it when my heart starts beating faster, the words don't come out of my mouth easily & the sweat starts to create this discomfort & God forbid a stench that I hope & pray no one ever notices. Fear is something I thought I'd conquered ages ago - when I walked into unknown situations as a kid, went off to university without a buddy, went head over ass off my mountain bike and got all scraped up and bloody, or skied a double black diamond just a few weeks ago. Well, maybe fear isn't really something that's conquered but rather something that you learn to live with. 
This year I have challenged myself to dig a little deeper and to get a little uncomfortable again. Not via extreme sports but by leaving my ever so comfortable studio that I've come to enjoy never leaving. I don't imagine it's a big deal to most who leave home for a workplace everyday but as I've been busy with my jewellery making & seeing clients in my home-studio for 8 years I've become complacent in reaching out beyond these walls. It's so easy these days to interact on line. I've joined business courses and groups via facebook, met women from all over Canada and the United States. While I haven't reached the level of agoraphobe I've been known to brush off going out until absolutely necessary...like my kids are eating the wrinkled grapes that weren't meant to be raisins or making up creative sandwich fillings because I haven't done the shopping with the excuse that this customer needs her/his jewellery order STAT. So, how does one stretch herself beyond four walls?
For starters, I joined a small group pilates class.  Exercising is great for mental health but so is the camaraderie of the few women I see twice a week. Our chat time is as valuable as the strength training to keep the mind healthy.  Having times on my calendar where I'm expected and accounted for makes it easy to go and hard to miss. 
Second, I accepted an invite to visit a business networking group with a trusted friend & then I joined one that suited me. My first business networking lunch was a great venture back into the land of adult conversation and business growth - although there was far too much public speaking involved for my liking.  One of the perils of my kind of solo-preneurship & work at home mothering is you never have to talk to people in groups over 3. This group required a stand up self introduction business pitch to a room full of over 50. Talk about sweat & stammering! I was so out of practice but I did it, mind you without the poise & grace with which I'd imagined executing my elevator pitch, but I did it.
So once I met the challenge of that first group I decided to try another one. This time one with the comfort of some online learning but the opportunity to reach beyond my walls to meet local women in business. I joined The Mompreneurs, a Canadian women's business group that understands the challenges that women who balance motherhood and business face.
Yesterday, I attended a Mompreneurs business lunch there were all the nerves of the first day of school or walking into a party without a wingman... it reminded me how being married provides a lot of opportunity to enter situations as a couple.  The founder of Mompreneurs, Maria Locker and her team were lovely and welcoming. It's so much easier to meet people when I can show them what I do rather than explain it, so I'd applied to be part of the meeting's marketplace ahead of time.  Feeling out of practice & uneasy, I set up a table with my jewellery display & kept myself looking busy.  I eased into the meeting with a few conversations about my jewellery - the pet nose jewellery is actually a great ice breaker. I met some lovely ladies with interesting businesses at different stages of growth and success. 
When travelling, if I have ever wondered if I am in the right place I always look for signs. Yesterday, I had that solid affirmation as if a road sign had popped up in front of me, when keynote speaker, Jane Bradley of Parents Canada Magazine, quoted Winston Churchill "Courage and fear are not mutually exclusive - we can feel brave and be afraid at the same time." Just what I needed to hear!  A sign that my steps toward faith greater than fear ( faith > fear ) were moving me in the right direction.