The Process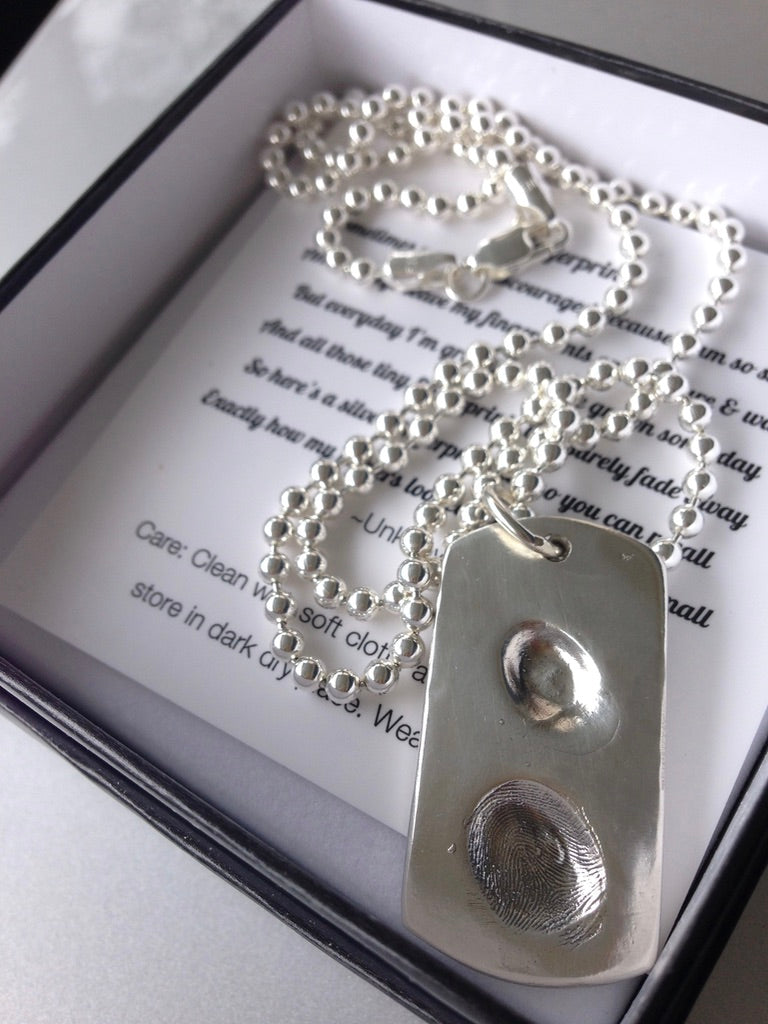 1...2...3
1. Order a Do It Yourself Mould Kit. The amount of mould putty included in your kit will be based on the number of people or pets you have selected.
2. Complete the mould(s) using the instructions provided.
3. Choose and customize your pendants, select chains and pay for your Sway Silver Jewellery order. Return your completed mould kit in the envelope provided.
Your jewellery will be shipped via Canada Post in about 4 weeks from the time I receive your completed moulds.
I'm here to help if you have any questions! Email: Heather@swaysilver.ca
Why have I been doing this for over a decade?
Tears of joy & love are shed at receiving this precious gift.
Over the many years that I have been making fingerprint jewellery, I have witnessed the power of the impression. The ability to be a just a fingertip away from someone special is a comfort in grief and provides connection at a distance. 
My jewellery collection conveys how perfectly imperfect we all are.  Low lustre silver, completed by hands and tools...one at a time...Sway Silver, goes with your everyday, comfortable and simple, never fussy or overdone. 
Though I have made silver jewellery for over 20 years, I had never experienced the sincere heartfelt responses that jewellery can invoke until this fingerprint jewellery collection came to be. It is my honour to serve you and your family with this meaningful way of remembering. It is my privilege ...
....to capture your memories in metal.